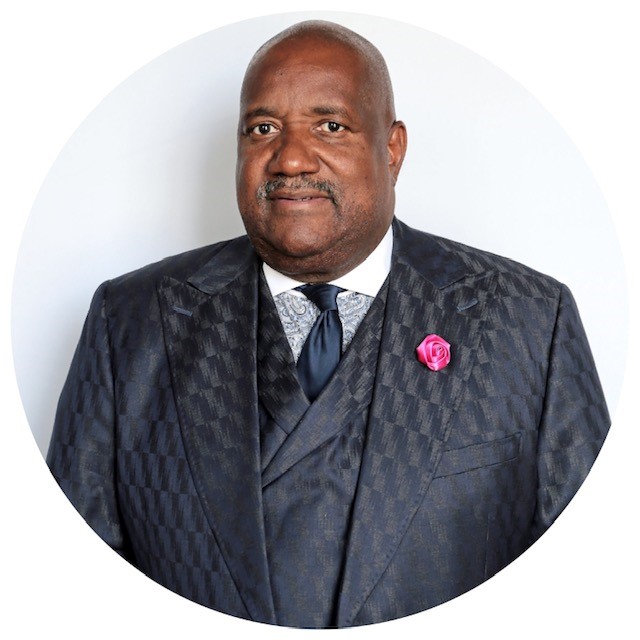 Elder Algernon Bartell was born on November 11, 1960 to the union of the late Trustee David L. and Sister Hazel I. Bartell, he was born in the city of Detroit, Michigan, the 12th child of 14 children born to this union. Trustee Bartell taught all his children to be hard-working industrious and entrepreneurial, traits Elder Bartell showcased in his first formal job, where he was recognized as an Employee of the month, this was only the beginning of his foray into hard work and industriousness.
On May 8th, 1985 tired of a life of sin and ready to surrender to his creator, Elder Bartell was filled with the precious gift of the Holy Ghost, just Three weeks after he was Baptized in Jesus Name, both events having taken place at the Historic Clinton Street Greater Bethlehem Temple Church under The Leadership of Bishop Kaster V. Jackson. After receiving the Holy Ghost Elder Bartell was moved by God to go back to the same street corner that he frequented prior to salvation, and witness to the Men and women who knew him in his former life, his witness bore fruit and those same men and women God filled with the Holy Ghost and they sit in pulpits and pews across the country.
Bishop Jackson seeing his zeal, appointed him to lead a Witnessing initiative titled "Operation Souls". Which saw the members of Clinton Street both young and old on the streets of Detroit compelling men and women to "Come and Meet a Man Named Jesus.
On August 29th, 1986 Elder Bartell was United in Holy Matrimony with Sister Theresa Hopkins, they have been blessed to be the parents of sons Algernon, Richard, Jonathan, Joshua, and daughter, Angelica and they are also proud grandparents.
While sitting in the sanctuary of Clinton Street on the left side of the pulpit in the 2nd row, in prayer, Elder Bartell had a vision of heaven opening and a voice saying "deliver and go preach my word" after discussing this vision with then pastor, Bishop Kaster Jackson and receiving a confirmation of his calling, then Minister Bartell, was ordained an Elder, and has since endeavored to fulfill this calling, on the pulpit as well as on the streets of the city of Detroit.
The industriousness and Entrepreneurial spirit instilled in him by his father has born fruit in his day-to-day life, he began his career in the clothing industry selling suits from the back of a van and now Elder Bartell is currently the proprietor of 6 stores, they are, Time Square, Suits for Less, The Mad Hatter, 42nd Street, The Red Door, and The Shoe Box. he employs 19 people.
Elder Bartell and his siblings have created two organizations that provide training and assistance to the youth of Detroit, they are The David L. Bartell Mentoring Program for Young men and Hazel's Helping Hands, an initiative directed towards young women in the City of Detroit.